Not only works with most Bluetooth mobile phones for radiation-reduced phone calls, but also connects to a PC (with Bluetooth app.) for Skype, Google Talk, Yahoo Messenger and MSN app. For convenient user experience, it has volume control buttons for easy operations. The functions of the "Whale" are Similar to most Bluetooth headsets or earphones: it has all the related functions, such as mute, call waiting and shifting calls between mobile phone and handset and so on. For the charging of Bluetooth handset, you just simply put the handset onto the cradle and connect the cradle with the USB cable to any device that has USB 2.0 power output.

Feartures:
1. With MirageBlack technique and unique circulation design, this product was awarded "excellent industrial design in China".
2. Wireless hand shank and power supply from pedestal can ensure unlimited talk time.
3. Allows access to mobile phone and PC for phone functions
4. With Skype, Google Talk, Yahoo Messenger and MSN app.
5. Reduces cellular radiation from mobile phones
6. Push to talk and hang up button.
7. Volume up and down.
8. High quality speaker and microphone.
9. Comes with charging cradle for handset.
10. Works with iPhones.
11. Compatible with all cell phones, smart phones and PCs that are with Bluetooth App

Specification:
1. Model: MH315/Brand:Padmate
2. BT Version: 3.0+EDR
3. Solution: CSR U.K
4. Battery Capacity: 300mAh
5. Talking Time: 12-15 hours
6. Standby Time: 250 hours
7. Size: 236*74*32mm
8. Weight: 495g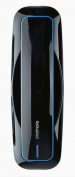 PadMate MH315 Wireless Bluetooth Headset Handheld Telephone for Smartphone iPhone 4, 4S, 5S, 5C Samsung Galaxy, HTC.
Reviews
Write Your Own Review