Get your fingers on delicious egg rolls today. You can easily make egg rolls and other food rolls of various cuisines with this appliance. It is lightweight, easy to store, and it is spacesaving. Available in 5 colors. What is included: egg roll maker, instruction manual, roller, cleaning brush, stirring rod.


Quick: Takes 5-7 minutes to cook eggs




Energy saving: 210W




Convenient




Easy to clean: Equipped with a cleaning brush




Safe and reliable: There is a dry heating power protection function.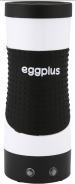 Korean Eggplus Egg Roll Maker.
Reviews
Write Your Own Review